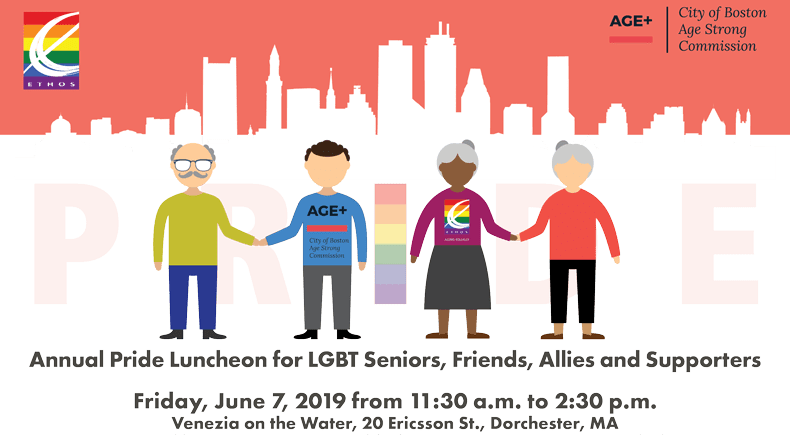 Join Mayor Martin J. Walsh, the Age Strong  Commission and Ethos on Friday, June 7, 2019 from 11:30 a.m. to 2:30 p.m., at Venezia on the Water, 20 Ericsson St. in Dorchester, for their Annual Pride Luncheon for LGBT Seniors, friends, allies and supporters.
This event has nearly tripled in size over the past several years, thanks in part to the support from Mayor Walsh' administration so, be sure to register early for what is definitely going be of the most popular events of Pride Week.
Shuttle transportation, leaving from City Hall Plaza, is being provided by the Age Strong Commission. Reserve transport with RSVP. Call 617.477.6617 for details.
Also, Ethos is looking for volunteers to march with its staff in the Boston Pride Parade on Saturday, June 8th. Click here for more information.
We look forward to seeing you at the Senior Pride Luncheon on June 7th.
6/3/2019 Update:
Waitlist: Unfortunately, we have already reached maximum capacity and are no longer accepting reservations for this event. To be placed on the waiting list, should a space be made available, please email jdemasi@ethocare.org or call 617.477.6617.
Shuttle Bus Information: Transportation to Venezia on the Water, is being provided by the City of Boston Age Strong Commission. Yellow School Buses will be parked along the Cambridge Street side of City Hal Plaza. Please arrive no later than 10:00 AM and 10:30 AM.
NOTICE OF FILMING/PHOTOGRAPHY
This event will be photographed and/or filmed in connection with Ethos and, promotion and publicity of its programs and/or services. By your presence at this event, you acknowledge that you have been informed that you may be photographed and recorded and, as part of such promotion and/or publicity, that you grant your permission for your likeness and voice to be included therein without compensation, credit or other consideration, in perpetuity throughout the universe. If you do not wish to be photographed, recorded, or appear under these conditions, you should not attend this event.  Thank you for your cooperation.